Maironis
Jonas Mačiulis (1862–1932), a priest, professor of theology and historian, used pen name Maironis to sign one of the first publications of his poems in a clandestine periodical. He became an icon of national revival and was proclaimed the central figure of modern Lithuanian literature already in his lifetime in the early 20th century. This official assessment of the poet has not changed during a century. Shortly after his death, Maironis's house was converted into the national museum of Lithuanian literature. A 20-litas banknote issued by the Bank of Lithuania, which was in circulation from 1993 to 2014 (since then, the national currency was replaced by the euro), bears his portrait.
Maironis wrote narrative poetry, dramas, and librettos; however, it was his poems that won him the status of a classic. Due to a ban on the press in Latin characters placed by the tsarist administration and attempts to introduce Cyrillic in the 1860s, Lithuanian newspapers until 1904 were published abroad and secretly smuggled into the country. Having published eleven poems in these newspapers, in 1895 Maironis alike illegally published a poetry book. This collection of verses with a title symbolizing the nation's rebirth and typical of nationalism, Pavasario balsai (The Voices of Spring), remains the main form of circulating his poetry.
The collection became his true initiation to the role of a national writer. Having realized this, the poet held on to the same perfectly recognizable figurative title, and three more collections of his poems appeared as The Voices of Spring in the author's lifetime (1905, 1913 and 1920). Moreover, as many as 29 posthumous editions of Maironis's poems in Lithuanian (the latest one appeared a few years ago) were published as The Voices of Spring. However, The Voices of Spring did not remain the only form in which Maironis published his collection of poems. Here we can talk about his secondary initiation — the initiation to the classics. Six years before his death, Maironis edited the first volume of his Oeuvre dedicated to verses by his own will and with his means. He did not resume the tradition of The Voices of Spring and titled it Lyrika (Lyrics, 1927). The latter title expressed the idea of Maironis's works as a poetic standard for Lithuanian literature in general.
---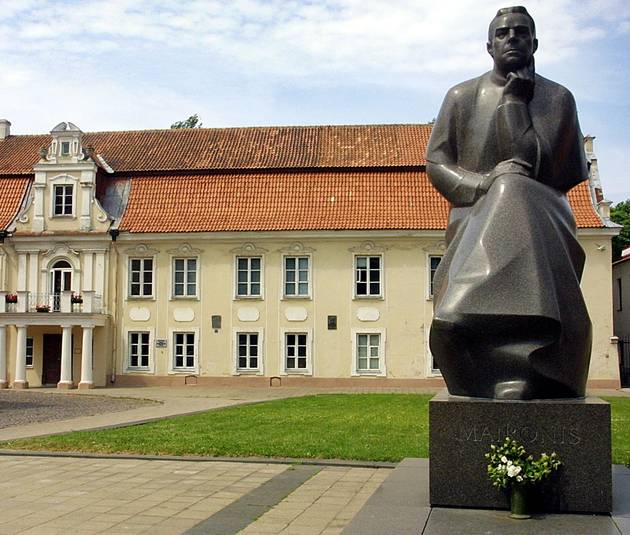 Monument to Maironis in front of his mansion (1977), by Gediminas Jokubonis, Kaunas.